Professional Wedding Videos
Examples of Montage, Cinematic, or Movie Trailer Edits
Why you don't need a wedding videographer:
You don't need a wedding videographer. It's the truth you don't! I mean what do wedding videographers even do?
A wedding videographer spends the day with you capturing every moment. This usually includes beautiful images of you getting ready, your ceremony, and then your reception. You don't need that do you?
After the music stops and the party is over the wedding videographers begin producing your final wedding films. This can take 10's to 100's of hours. Once they are done wedding videographers deliver a beautiful entertaining video. You don't need that do you?
That's what everyone thinks a wedding videographer does... and they are 100% correct. But what everyone forgets is that a wedding videographer is an investment in your future memories. What does that mean? Well, you're going to love your wedding film the day you get it... but you are going to cherish your wedding film as the years go on.
You don't need a wedding videographer. But, you will wish you had invested in a wedding videographer years... even decades after your wedding. Wedding videography is unique. After all it is the only medium that allows you to see, hear, and re-experience your wedding. That might not seem so valuable right now. But imagine how valuable it will be when a loved one passes away (very sad... but it's true).
Imagine how wonderful it will be to see that loved ones smile! To see them dancing, partying, and cheering you on during your big day! It's ultimately priceless!
Five months later and it still makes me cry (tears of joy)! Not to mention the full movie version was equally as awesome and totally captured each important part of our day. We are forever grateful to be able to relive all the wonderful emotions and happiness we felt on our most special day, and we couldn't have asked for better videographers.

— Andrea Meyer
Your wedding videography and wedding photography are the most important things and the best investments you can make for your wedding.
I know what you're saying! "You're only saying that because you are a video editing studio!" Let me stop you right there. I'll prove it to you. Please answer these questions in your head:
1. How long does your wedding cake last?
2. How long does your wedding DJ play music to you for?
3. How long do you have the venue for?
4. How long do your wedding flowers last?
Finally - how long will a wedding video last?
Are you seeing the big picture yet? Every purchase you make for a wedding only lasts a day or even a week (flowers). But, your wedding videos last forever.
So do you need a wedding videographer? The answer is still no. A wedding videographer is an investment. It's an investment in your future memories.
You don't need professional videography for your wedding. But, you will wish you had one years from now! We always hear one of two things: We wish we had a wedding video or we love our wedding video - we can look back at our wedding any time!
Your wedding captured in stunning high quality with professional equipment, the sights, sounds, colors, feelings all retold before your eyes. Feelings will come in as a rush of the rememberance of your special day, retold and displayed beautifully before your eyes. With multiple cameras we capture many angles and for the package you choose, mix between cameras.
Packages carry with them multiple options progressing from ceremony only to full montages and entire day coverage.
You can also have the raw footage of your ceremony played at your reception on a tv, monitor, projector and screen for everyone. See the information sheet below for more information.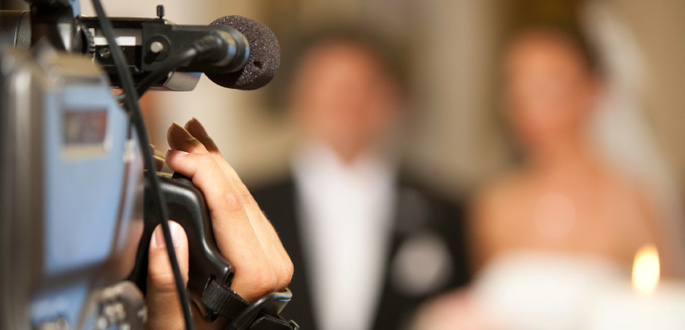 We capture your cherished moments forever. Your memories can be in the form of never fading digital files or DVD.
When pictures simply will not do, choose videography captured in high-quality. Events captured with transitions, 2 dvds with all packages. Video can capture much more than just pictures. Digital formats never fade. We are industry professionals. Contact us today.
We are a wedding specialist specializing in wedding video is what we do! Cherished memories that you will remember forever. Captured in stunning high quality with advanced industry leading equipment, professional audio and lavalier microphones, edited on state of the art equipment. From weddings, to events, and outdoor sessions, we do it all! We have several packages to accommodate your needs.
We also travel from Sheboygan, to Elkhart lake, Plymouth, Oostburg, Cedar Grove, Adell, Howards grove, Manitowoc, Two Rivers, Fon du lac, Appleton, Green Bay, and all areas in between!
We can play your ceremony video at your reception! Chose between a large video screen and projector, Medium 45" TV or small 19" screen. This is uncut footage played for people that would not make it to your ceremony. See the bottom of the image below with prices and options. We also can provide a DVD to you of your uncut video to play at the reception.

What package should you choose and what is the difference between the packages?
Almost everyone picks package 4 - Why? because it includes your entire day(two locations between ceremony and hall, montage or movie trailer edit as well as fully edited with transitions and multiple camera angles) at a fraction of the price of other videographers
Other smaller options are available such as packages 1 to 3. Packages 1-3 increment from just ceremony with package 1 to additional footage and time
Hall elements mean that the videograpgher will tape items (cake, card box, table center pieces, hall decor, ceremony decor)and include them in the final edit of the video.
Please contact us here for further clarification
You can have your ceremony played at your reception!
This is offered by Infinity Video Productions and can be displayed on a provided by us: small screen 20", Large Screen 42", Projector screen up to 100".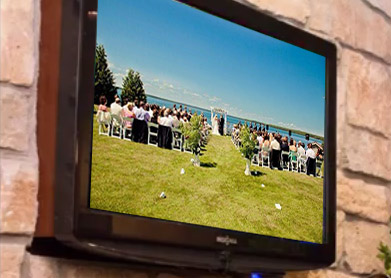 Your guests that were unable to make it to the ceremony can watch uncut unedited footage at the reception during dinner! This is a unique addition that will definately make your reception unique. We also offer uncut ceremony footage on USB drive delivered to the reception (you must ensure that the device playing files is compatible beforehand - we are not responsible if footage does not work with your device)
Contact us today on this unique necessity for your reception!