Infinity Video Productions Sheboygan
For your wedding or event video production in Sheboygan. Also offering VHS, VHS-C, Hi8, 8mm, Mini-DV, Beta to DVD or file convert services below.
Welcome to Infinity Video Productions.
An industry leader and premier wedding video expert for Sheboygan, Manitowoc, Fon Du Lac, Green Bay and Appleton. Video Production Taping, editing, effects, videographer, wedding DJ, and photo booth provider.
We capture your cherished moments forever. Your memories can be in the form of never fading digital files or DVD.
Please click the links above to view all of the services we offer.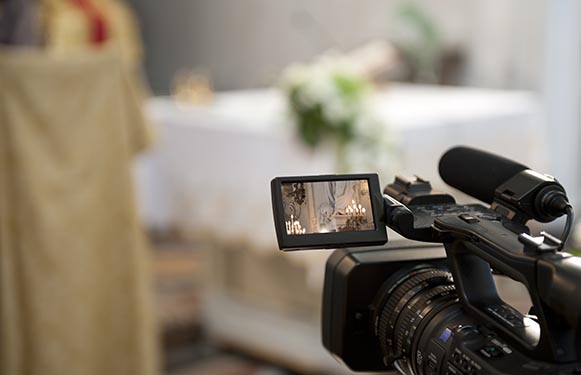 We are a wedding specialist specializing in wedding video is what we do! Cherished memories that you will remember forever. Captured in stunning high quality with advanced industry leading equipment, professional audio and lavalier microphones, edited on state of the art equipment. From weddings, to events, and outdoor sessions, we do it all! We have several packages to accommodate your needs. We also travel from Sheboygan, to the entire state of Wisconsin: Kohler, Elkhart lake, Plymouth, Oostburg, Cedar Grove, Manitowoc, Two Rivers, Fond du lac, Appleton, Green Bay, and all areas in between!
With every session you recieve a professional video person that will capture elements of your day.
VHS or Film Conversion to DVD or Digital Files

Have old VHS, VHS-C, Beta, MiniDV, Hi8 /tapes - videos of the kids, family gatherings, birthdays, or graduations?

We can professionally convert VHS or film to DVD or Digital files (USB Drive with files $15)

Regular VHS conversion is $15 per hour rounded to the next hour.
Average single tape is under 2 hours ($30 or less).
8mm and Super8 film is a minimum of $30. $3 per minute of finished video. 50 foot film (3 inch reels) typically 4 minutes or less. 5 inch reels with 100 foot are 5-8 minutes. 200 foot is 10-14 minutes. With any film that is not 8mm or Super 8, you must provide a working projector. If you provide a projector with audio film, we can convert it. If any film repairs are necessary, it will be $5 per repair. We may offer disount bulk pricing on film (20 or more reels).



If you have multiple tapes with footage, total footage of all tapes is rounded to next hour. We do not convert empty time or non-recorded footage. For instance if you have 3 vhs tapes with 45 minutes of footage combined total it will be rounded to the next hour for a total cost of $15. If the time is 2 hours and 15 minutes (rounded to the next hour is 3 hours for total of $45)

We can have your tapes converted in as little as the same day! This depends on workload.
Other conversion services ship your tapes and it can take up to a week or longer to return them to you.
We can Fit multiple tapes on DVD and can make multiple DVDs for you, others cannot fit multiple vhs tapes on one DVD.

We can fit multiple VHS tapes onto one DVD!

Free pickup and delivery within the City of Sheboygan limits.

1 DVD included with all conversions.
Additional copies of DVDs $5.
USB Drive with digital files: $15.
Disc with digital files - readable only by computer or compatible media player: will replace DVD if you wish.
Also offering video slideshows of still pictures with background music. you simply provide the physical hard copy pictures or digital pictures and we create a slideshow on DVD or a digital video file.

Contact us for a custom quote.

Offering slide conversion to dvd and digital files as well.

Contact us for a custom quote.

We also offer video displays in Sheboygan, for your business to display video, pictures, slideshows, and much more. We can setup a system for you to easily load pictures to the display with a single mouse click. These displays can be found at several local businesses and establishments. The displays can show information, menus, highlighted sales items, maps, Speciality Items, and much more (basically anything you can think of). Click here to learn more about video kiosk or display for your event, business, or customers. Video displays can display pictures, video, maps, information, menu boards, or anything you can think of.
We are industry leaders in professional dynamic advertisements. Indoor advertising on TVs that provide movement and over time pay off the investment due to lowered printing costs. This system can can be easily updated by you daily, hourly, or weekly. Contact us today to talk about this exciting new technology!